Meet Your New Apple and Ornamental Pathologist
Greetings everyone! My name is Sara Villani and I am your new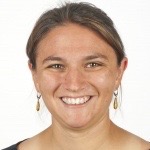 apple and ornamental pathologist at North Carolina State University. However, so far my titles have ranged from "The New Turner Sutton" to "Yankee" (apparently wearing shorts when the temperature is below 60 is strange in the South?). For some reason they have me stationed in beautiful Western NC right in the heart of the NC Apple Country at the Mountain Horticultural Crops Research and Extension Center (Mills River, NC). Although I was born in Raleigh while my father was finishing up his PhD in entomology at NCSU, I grew up and have lived in the Finger Lakes Region of New York for more than 25 years. I cannot think of a better time to arrive in NC than right before the harsh upstate NY winter sets in!
Before arriving at NCSU, I was a research technician in Kerik Cox's Tree Fruit and Berry Pathology program at Cornell University's NYS Agricultural Experiment Station in Geneva, NY. In 2012 I began working towards my PhD in Kerik's program as part of Cornell's Employee Degree Program. My research focused on mechanisms of fungicide resistance in the apple scab pathogen Venturia inaequalis. However, as Kerik's technician I was heavily involved in disease diagnostics, antibiotic and fungicide trials, and participating in many extension-related activities. In November I finished up things at Cornell and have been living in my new home in Arden, NC for the past few weeks.
I am honored to be a member of the renowned and well-respected Plant Pathology Department at NCSU and very excited to have the opportunity to work with the apple and ornamental stakeholders in North Carolina. In the coming months I will be working with local extension agents to make visits to your orchard and nurseries. In the meantime, however, please do not hesitate to contact me with any questions, challenges, words of wisdom, suggests on great mountain biking locations etc. I'm also working on getting a lab website up and running so stay tuned!
Was the information on this page helpful?
This page can also be accessed from:
go.ncsu.edu/readext?387397